One of the more shady and outdated tactics and SEO company can engage in is a "tit for tat" link exchange.    My clients get these requests all the time.   What happens is that they get an email from an SEO consultant asking them to post a BLOG post and link on their site, in return for the attorney to do the same on their site.    This type of reciprocal linking is a clear violation of Google's Guidelines.   You can read about Google's view on link schemes here.   Basically its the idea that I will link to you if you link to me, with the expressed purpose of impacting search engine rankings.   Here is one I got today from a client who was approached by Apricot Law, a legal SEO company.
"Hey there,
I know you're probably very busy, so let me get straight to the point: I'd like to collaborate with your firm in order to boost both our sites' visibility.
Let me explain. I manage outreach for Apricot Law, which in turn manages the online presence and search engine visibility of a few dozen law firms. We only do this for one of any particular type of firm in a geographic location, but I've figured out a way that is truly win-win to get your website a free visibility boost, while assisting one of our clients' sites similarly.
What I'd like to propose is that one of our non-competing, well-respected attorneys be allowed to post a professionally-written and vetted guest post on your blog, and in exchange, we could do likewise for you on ours, or on another firm's blog, that links back to your site. We also share these over multiple social platforms.
It works well, and poses no risk. It's truly a win-win proposition.
Please let me know if you'd be open to doing something like this, and let's chat.
Thanks much for your quick minute.
Cheers"
When I see tactics like this, I wonder what other SEO strategies are they employing?   Looking into the link profile of some Apricot Law clients it does not take long to find some more issues.   The first thing I notice is that they employ their own link network.   This is a collection of poor quality BLOGs that they control.   These BLOGs serve only one purpose – driving links to their clients.   Just take a look at http://www.braininjurydisorders.org/  In what world does that BLOG provide value?       They have more, but it seems like some http://www.safetyandmagazine.com/ and http://weneedkenlucas.com/  have been taken down, likely because they were discovered by Google.  Using the Way Back Machine, you can see that the same collection of clients were getting links from http://weneedkenlucas.com .   In fact here is a snippet from that BLOG that shows how 8 Apricot Law clients were getting keyword stuffed links from this site.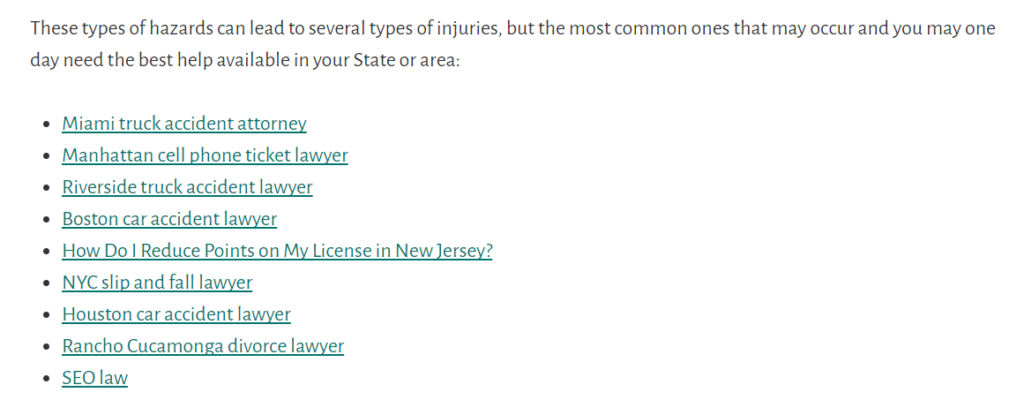 Think about it.  Do these BLOGs provide any discernable value to the internet?  The only reason they exist is to provide "link juice" to their clients.  They might be getting away with it now, but one day these may get you penalized.    The fact that two of these 'BLOG" were taken down is evidence how this strategy is short sighted.   But Alex, I see you often link to your clients in this BLOG.  Are you not doing the exact same thing?  Well no.   First of all, every link in this BLOG is "no follow" which means none of the links from my site has an affect on search ranking.
So what does good SEO look like?   Well it starts with quality.  Take for example the content piece that Trombly Singer recently created.  That piece has gotten a ton of natural links back to the site.  Why?   Because it is an awesome, well researched piece that people actually want to share.   The Washington Post actually did a story on it, so did the Washingtonian.   The days of the "SEO easy button" are over.   If you want to rank in competitive metros, you need to make a commitment to quality.    Tactics like a link exchange or a private link network might have worked 5 years ago, but they will get you in trouble today.