iLawyermarketing Vs. ConsultWebs
There are some legal website companies that I end up competing with a lot.  One of those is ConsultWebs.  ConsultWebs is a boutique legal SEO agency with around 40-50 employees (from  their website) that was founded in 1999.   Like iLawyermarketing,  they focus primarily on the personal injury market and like iLawyermarketing they employ a semi-exclusive model.  If you look at the location of their clients, they are very strong on the East Coast and Midwest.   Since they are based in Raleigh NC, they are particularly strong in North Carolina.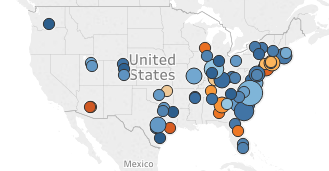 The geographic concentration of ConsultWebs clients is the opposite of iLawyermarketing which is strong in the West and Southwest, with a very strong cluster of clients in Southern California as they were founded in San Diego: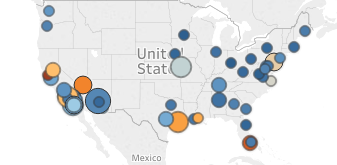 So how do you evaluate two legal website companies?   While comparing design quality may be subjective, comparing ranking results is certainly not.
The ARC
In the legal SEO universe there are a lot of charlatans.   Attorneys are constantly bombarded by companies and people claiming to "get you to the top of Google".   The reality is that in a post-penguin World, the ability to get great ranking results for personal injury lawyers in competitive metros is very very rare.  Even more rare are companies that can do this while employing only white-hat SEO techniques.  This is why I developed the Average Rank Consistentcy Score (ARC).    I maintain a database of 7500 personal injury websites in 250 markets, tracking their rankings on 8 important keywords.   The ARC is then based on the actual rankings for those 8 keywords (Personal Injury lawyer, Car Accident Lawyer, injury attorney, motorcycle accident lawyer, Truck Accident, Wrongful Death, Accident Attorney and Brain Injury).  If a site is on the 3rd page fo a particular search it scores a "3",  4th page a 4 and so on.  The lower the ARC the better.   iLawyermarketing had the 2nd best ARC at 2.728 and ConsultWebs has a very respectable ARC of 3.45 – which places them #14 out of the 120 SEO companies that have at least 8 PI clients in the database.   For comparison sake Scorpion and FindLaw each have an ARC over 5.50.   Comparing upon ARC is instructive since each company has a similar number of PI websites in the database (90 ConsultWeb sites and 98 iLawyermarketing sites).  You can find a more detailed explanation of the ARC here.
Head to Head Ranking Analysis
The ARC is a useful tool in comparing web companies, but its far from perfect.   The ARC number reflects a point in time ranking analysis.  A faster growing SEO company would be penalized for launching more brand new sites.  Additionally, a top design firm like iLawyermarketing is penalized each time they release a "design only" site (a site that does  not do SEO).    While you can compare ARC from websites in similar sized cities, this is not ideal since very city is different in regards to competition.   For example Consultwebs has a long time PI client in Chicago (https://www.salvilaw.com/) and we do not.  Alternatively, we have a long time client in Los Angeles www.psblaw.com , and ConsultWebs does not.     Here you can see the ARC for each firm taken a year ago and today:  *(A score of 0.3 means that the firm ranked in the top 3 in maps or top 3 organically.   This reflects the fact that firms placing here are at least three times more likely to be clicked on.)

Clearly a better way to compare ranking performance is in metros where we both have clients.  There are 21 markets where Consultwebs and iLawyermarketing both have clients.   I thought it might be instructive to compare ARC in these markets, both from last year and today.   To avoid the accusation of cherry picking markets to compare, I started with the first 6 cities alphabetically, where we both have clients:  Atlanta, Austin, Birmingham, Boston, Charleston WV, and Dallas.   *I included the raw ranking data at the end of this post.
Atlanta, GA
Winner: iLawyermarketing
When I ran the rankings for Atlanta in December 2016 iLawyermarketing had yet to have a site in Atlanta.   Since then iLawyermarketing released the Kaufman Law Firm and the Dixon Firm.   The two new iLawyer sites badly outrank Millar & Mixon despite the fact that Millar & Mixon has been with Consultwebs from at least September 2015.    The Kaufman Law Firm, which was previously with Scorpion showed the largest improvement in ARC of any of the sites in this study.  It should be noted that Millar and Mixon changed their URL to AtlantaAdvocates .   For comparison purposes, I would throw out the jmplawfirm result.   It seems clear that no ongoing SEO effort is taking place, and could be a design only client for ConsultWebs.

Austin TX
Winner:  iLawyermarketing
In Austin ConsultWebs has two clients, Byrd Davis(Since Mar 2016) and Bob Richardson since 2011!  Both have decent rankings for a competitive market like Austin.   Ross Law Group which  was launched in late 2016 by iLawyermarketing, has a demonstrably lower ARC and showed incredible improvement since the analysis last year.   The Ross Law Group also markets employment law on the same domain, and dominates for most employment law searches in Austin.

Birmingham, AL
Winner:  iLawyermarketing
This one is not fair as ConsultWebs only recently launched SeriousLawyers.com.   That said, iLawyermarketing also launched their new site in 2017 as well.  Impressively all three iLawyer sites on the first page in Birmingham for most if not all the 8 searches I track


Boston
Winner: iLawyermarketing
This might be the cleanest one vs one matchup there is between ConsultWebs and iLawyermarketing.   Both similar sized firms started SEO in 2015, with 1800Lawguys launching in March and Sweeney Merrigan launching in July.   Today Sweeney Merrigan dominates for most PI searches whereas the LawGuys have an ARC of 2.60.   They did make the first page for Car Accident and Motorcycle accidents though.


Charleston, WV
Winner:  ConsultWebs
In Charleston WV, ConsultWebs narrowly edges out iLawyermarketing 0.645 to 0.745.  Both reflect incredible ranking scores.   I should note, however, that Charleston is a secondary geography for the iLawyermarketing site.   Checking the home page title tag, you see that the primary focus is  the Statewide term "West Virginia".

Dallas, TX
Winner:  iLawyermarketing
In Dallas the ConsultWeb client Kraftlaw has been with them since at least 2009 on a URL that was first indexed in 2000!  Kraft has dropped a bit since the last analysis, with the only one current first page result (Motorcycle Accident Lawyer).   Despite launching on a new URL in 2015, the iLawyermarketing website "injuryattorneyofdallas" has the top ARC in Texas with numerous top 3 ranking results including #1 for "Dallas Car Accident Lawyer"

Conclusion:
Even if we took the top performing ConsultWebs site in the database – Cohen Jaffe in Long Island with an ARC of. 0.391, the iLawyermarketing client Rosenberg & Gluck outranks them organically for every single keyword!  Its clear that iLawyermarketing is a superior SEO company – at least when it comes to ranking.   They have a better ARC score over all, but more importantly, in head to head markets iLawyermarketing consistently comes out on top.  This is not to say ConsultWebs is not a great company.   They are.  I have a ton of respect for ConsultWebs.  They understand SEO and do it the right way.   I have also found them to be extremely ethical in the way they sell and how they handle client relationships.  I have and will continue to refer business there way, but if you are looking to dominate a competitive market organically, iLawyermarketing's proven ranking results makes them a better option.
Data:
Here is the raw ranking data used to determine the ARC.