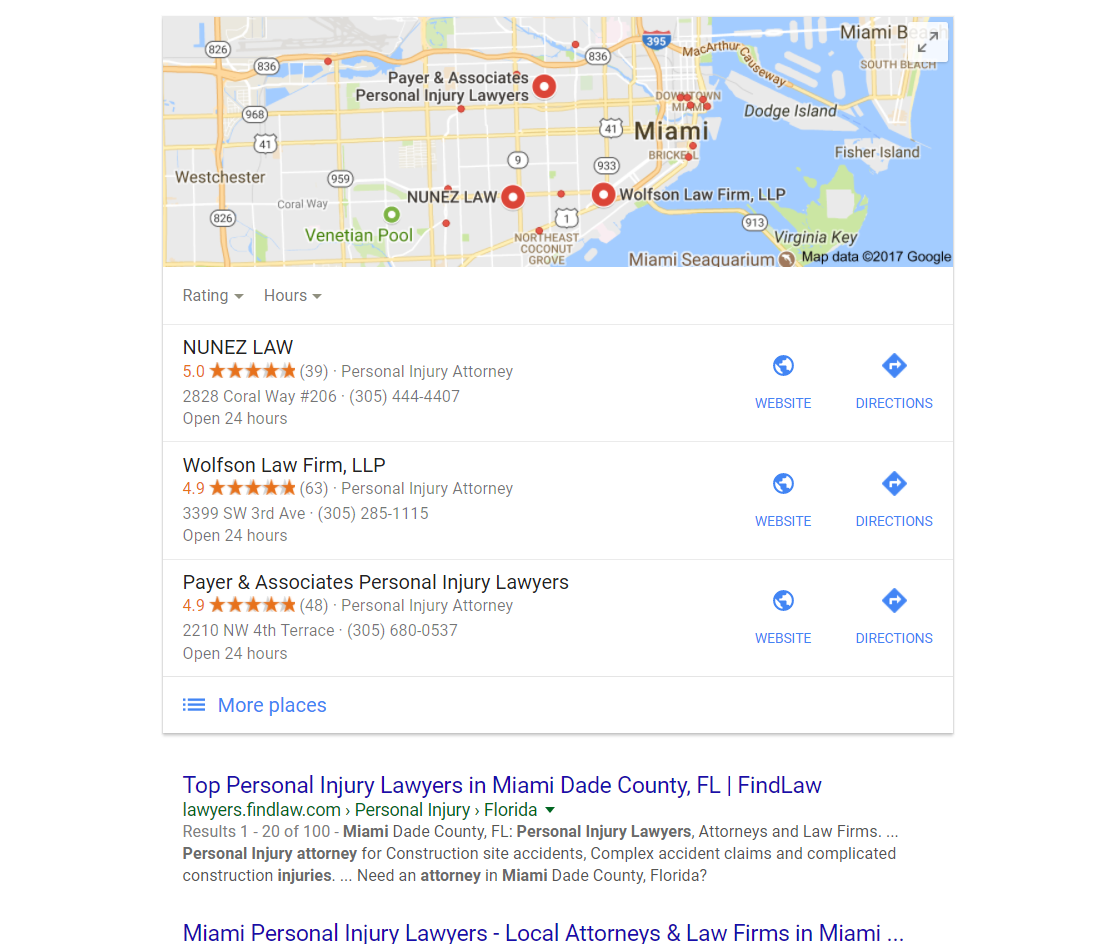 Comparing ARC in Miami
Average Rank consistency is a formula I use to track search engine ranking for  individual websites and legal SEO companies.  The ARC looks at point in time rankings of 8 important keywords:
Geo + Personal Injury Lawyer
Geo + Car Accident Lawyer
Geo + Injury Attorney
Geo + Motorcycle Accident Lawyer
Geo + Truck Accident Lawyer
Geo + Wrongful Death Lawyer
Accident Attorney + Geo
Geo + Brain Injury Attorney
If a website is on page 3 for a particular keyword, they score a "3", 4th page a "4" and so on.  If the site does not appear on the first 10 pages they score an 11.   If they appear on the maps or the top 3 organically, they score a "0.3".   I then use a weighted formula to calculate the Average Rank Consistency or ARC.  The lower the ARC the better.   Taken by itself the ARC is not that helpful in evaluating an individual website ranking success.   This is because the ARC reflects a point in time ranking score and if a site was recently released or just started SEO, it will have a very high ARC.  However, the ARC is very useful in two important ways:
Comparing Legal Website companies:
In my database I have over 8000 personal injury websites that I track in 250 separate markets.   There are 150+ legal SEO firms with at least 10 PI websites in the database.   This allows me to rank these companies by ARC, both overall and by market type.   A legal SEO company that knows what they are doing should have a lower overall ARC score.
Comparing ARC at different points in time.
If you are employing an SEO company to help your law firm, rankings should improve over time.  In the following BLOG post I looked at the hyper competitive Miami PI market.   On Jan 18th 2017 I conducted an ARC study on Miami and then did so again last week – so roughly looking at a 10 month window.
Who is moving up in Miami?

Here are the top ten sites that showed the largest improvement in ARC since Jan 18th 2017.   Obviously there are a lot of factors when it comes to SEO.   One of those is the age of the URL and its why I also included a column marked "First Indexed" which shows when the site was first launched.    This is why he performance of www.steinlawmiami.com is so impressive.   The brand new site was launched in October 2016 and is already ranking #11 "Miami Personal Injury Lawyer" and has climbed in ARC a full 4.273 points.   These results should also serve as a reminder of how long SEO takes in a competitive market like Miami.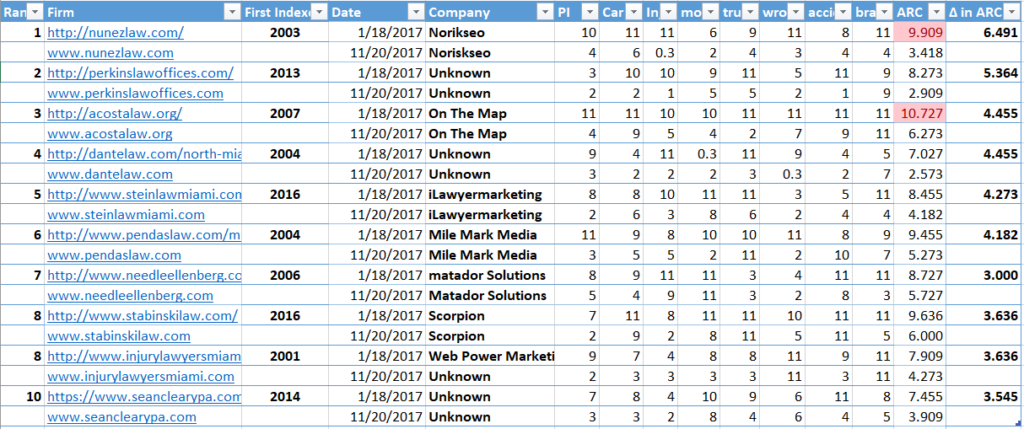 Who is Moving Down in Miami?
These are the sites that saw their rankings tumble over the last 10 months.   What is striking is the number of big name legal SEO companies on this list.  Interestingly 3 Justia sites make this list with Hannon and Ruth Johnson both taking large falls.   www.Sgglaw.com also fell in ARC but left Justia this year and returned to FindLaw.   I feel like returning to FindLaw is odd given the link profile they got from FindLaw 2008-2011 is likely contributing to their terrible rankings.   I should note that Justia had 24 PI sites competing in Miami as of January 2017.   The reason?  Well the top two ranking sites in Miami are both long time Justia sites: wolfsonlawfirm.com and injuryattorneyfla.com